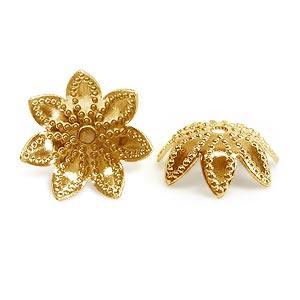 Bead caps metal gold finish 9mm (10)
Material : Brass
Color : Gold
Width : 9 mm
Bead caps are most often used in jewellery making to enhance a bead or stone . They can also be used to stop the bead from falling off the end of a headpin or you can cap the end of a string of beads. No matter where you use the bead caps, they will add a distinct detail and texture to your design!

These bead caps are a perfect fit for a 10mm bead.

THESE METAL COMPONENTS ARE NICKEL FREE.